Both the French and German car parts aftermarket have a long-standing legacy with strong manufacturing companies. However, significant structural changes have transformed both markets in the last decade. International trade and buying groups, such as ATR, GAUI, adi, Nexus, Temot, GroupAuto, and Amerigo, have a significant presence in the European aftermarket.
The French market stands out due to its use of "Plateformes" – distribution centers with substantial storage space that allows parts to be delivered in close proximity to regional and local areas, serving medium-sized and small retailers.
The French aftermarket is also characterized by strong trade groups, Groupauto and autodistribution international, owned by the largest distributors in France. Additionally, the D'ieteren Group acquired the Parts Holding Group, a significant independent car dealership group engaged in the independent aftermarket.
In terms of the workshop level, the French aftermarket has more garage chains and the unique concept of autocenters, which offer maintenance services and parts and accessories purchases under one roof. Notably, the French family-owned Mobivia Group owns the German autocenter A.T.U.
Some players, such as Mobivia, Bosch Car Service, and Eurorepar, operate in both markets. However, most do not serve both, particularly in parts distribution. Exceptions include e-commerce companies like Autodoc, Oscaro, and Mister-Auto.
France is known for its innovation in the aftermarket industry, particularly in the e-commerce segment. For example, Oscaro was the first pure online player to achieve significant sales volumes, but Autodoc is currently the largest online player due to its comprehensive European strategy. When comparing the yearly user traffic of the two companies, it's evident that Autodoc is closing in on the French market. Interestingly, Autodoc is breaking new ground by focusing on B2B customers in the French market instead of their domestic market.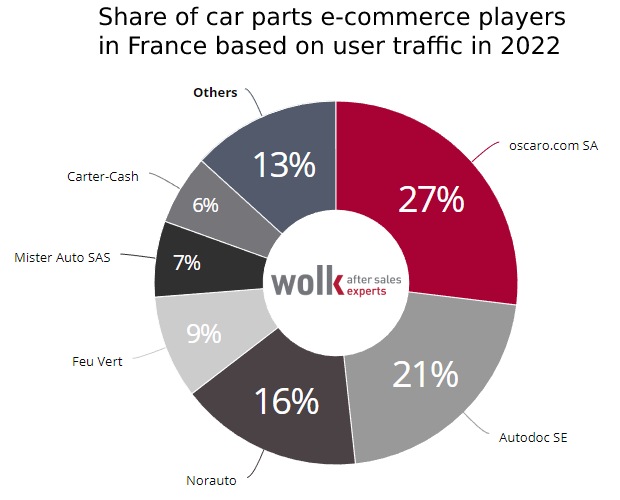 In the field of international purchasing cooperatives, the French market boasts the presence of "ADI", one of the earliest pioneers in this industry. The ITG Nexus has also experienced rapid growth within its 7 years of existence. French entrepreneurship continues to demonstrate progressive and creative activities that lead to success.
Overall, the French automotive aftermarket is a complex and evolving market with unique characteristics, and it's worth exploring its details.
Our company has a detailed database of information on the French automotive aftermarket, and we have a poster highlighting the key characteristics of the French market that can serve as a useful reference for those interested in learning more about this dynamic industry.