After Sales ACCESS Database
Keep an eye on the Automotive Aftermarket
Always and everywhere through our after sales ACCESS database
The After Sales ACCESS database gives you access to exclusive market data that helps you to understand and keep an overview of all 35 European markets. In addition, the after sales database provides insights into the market structures and market participants at all levels of trade, including workshops. Above all, the data is permanently and carefully researched by our team and our partner experts. So, get an overview and stay up to date.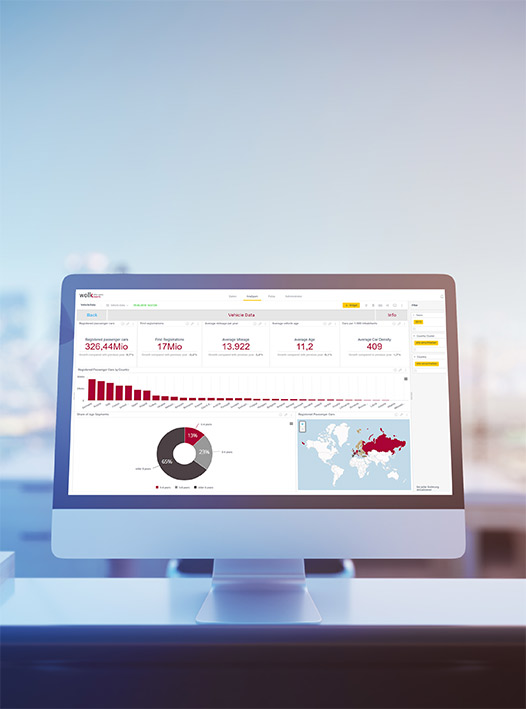 Automotive Aftermarket information on 35 European Countries.
Overview of the trade and buying groups that are currently active in Europe, along with details about their members.
This view lets you keep track and trace which distributor belongs to which trade and buying group. In addition, you can also easily see the lists of members and their cumulated turnover and number of outlets by each country. Moreover, the database is immediately updated according to the latest market events such as a merger or acquisition. In this way, you always keep an eye on the retail sales of the trade and buying groups.
Discover comprehensive information on registered passenger cars and trucks in European countries effortlessly.
Our database provides detailed data, including the number of new registrations, car density, average age, and average mileage. In addition to these high-level numbers, you can also delve deeper into the car make (brand) level for each country, gaining valuable insights into specific brands.
Most important market players
The After Sales ACCESS database provides you with more than 6.000 detailed company profiles of car and truck parts distributors, wholesalers, auto centers, direct marketers, and retail chains.
Within each profile, you will find essential information such as turnover figures, number of outlets, and employees. Furthermore, our database unravels the intricate relationships between these companies and provides a visual representation of their distribution networks, empowering you with valuable insights.
Information you receive:
– Sales volume
– Number of branches
– Number of employees
– Who belongs to whom?
– Which workshop concepts are used?
– Contact details
– Network illustrated on maps
– etc..
The comprehensive European Car Aftermarket Study by Wolk After Sales Experts provide insights about the Who-is-Who of the most important players in the Automotive After Sales Market as well about the size of the parts and accessory market based on data and research. The standardized country profiles enable fast finding of country as well automotive related KPIs. A must have for European or global headquarters acting in our industry and a good introduction for newcomers.
Whether in marketing or sales – in form of a database or as an always available reference the report gives us insights into the markets and supports us with many important structural data in strategic planning and business development.
The market itself is very complicated, fragmented and full of garage networks specific only to single country. With ACCESS it is possible to have both the helicopter view or get down to the finer details. Even if you are only interested in your specific, domestic market it is good to know how this market is seen from outside, what is your position from the point of view of foreign competitors or your vendors. It is obvious that Wolk is one of the sources of information for decision makers in this business.