LKQ Europe Unifies Sales Brands in the DACH Region
STAHLGRUBER Group will operate under the name LKQ DACH in the future and combines the brands LKQ STAHLGRUBER, LKQ PV AUTOMOTIVE, NEIMCKE as well as LKQ RHIAG (Switzerland).
LKQ DACH covers the business activities of LKQ Europe in Germany (D), Austria (A) and Switzerland (CH) with more than 160 locations.
The new regional and brand identity underscores LKQ Europe's position as a leading distributor of automotive aftermarket parts for cars, commercial vans, and industrial vehicles in the DACH region.
Under LKQ DACH, LKQ Europe brings together more than a century of expertise in the automotive aftermarket, including the LKQ STAHLGRUBER and LKQ PV AUTOMOTIVE brands.
LKQ Europe is bringing its sales brands in the German-speaking region under one roof: With immediate effect, the former STAHLGRUBER Group will appear under the name LKQ DACH with a new branding and a new regional constellation. This unites the companies STAHLGRUBER GmbH, STAHLGRUBER Ges.m.b.H. in Austria, PV Automotive GmbH, Neimcke GmbH & Co. KG and, since the beginning of this year, RHIAG Group GmbH in Switzerland.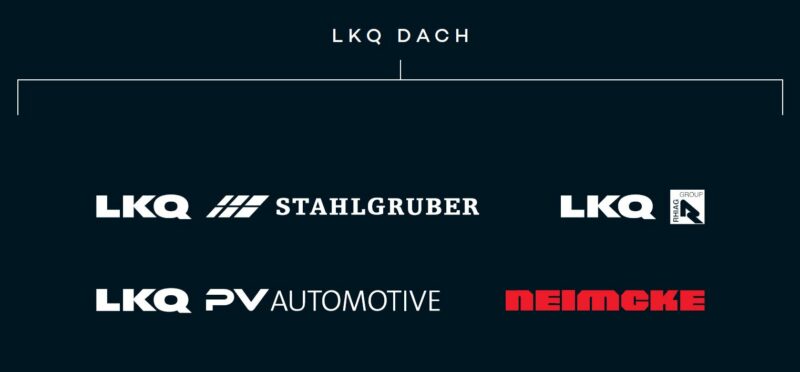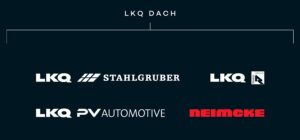 Celebrating Milestones: LKQ Corporation's 25th Anniversary and STAHLGRUBER GmbH's 100-Year Foundation
"2023 is a special year: our parent company LKQ Corporation celebrates its 25th anniversary and the STAHLGRUBER GmbH its foundation 100 years ago," says Varun Laroyia, CEO LKQ Europe. "A century of business history is an outstanding achievement. The company is characterized by its employees owing to their adaptability, resilience, and growth mindset. This also distinguishes us in our industry."
"The new region name gives expression to our common identity," says LKQ DACH CEO Frank Schöller. "Under the logo LKQ and the region name, we present ourselves as the company we have become since 2018 as part of LKQ Europe. For decades, our customers have relied on us as a trustworthy partner. That is why we continue to present ourselves to them with our traditional sales brands LKQ STAHLGRUBER, LKQ PV AUTOMOTIVE, NEIMCKE and now also LKQ RHIAG."
New brand, new brand identity
It also follows the parent company in terms of brand identity. "The new brand identity is the biggest visible change in our 100-year company history," says Schöller. LKQ Europe, headquartered in Zug, had developed a new corporate brand and identity as part of its expansion, integration and transformation. In 2022, investments were launched in a modern, internationally harmonized brand presence. The uniform appearance in all European subsidiaries underpins the growth course and strengthens LKQ Europe's leading role in the European automotive aftermarket – now also in German-speaking countries.