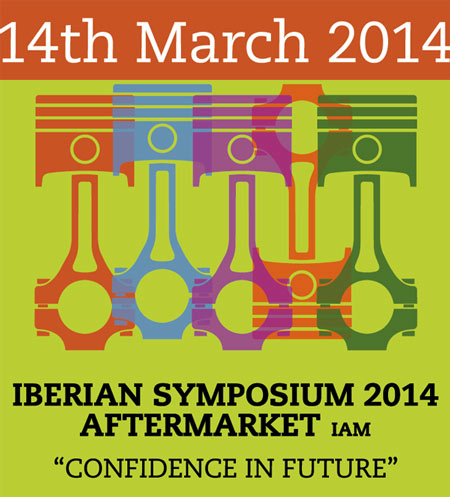 Organized jointly by JORNAL DAS OFICINAS (Portugal) and AUTOPOS (Spain) the Aftermarket IAM 2014 Iberian Symposium will promote a broad debate about the present and future of this sector. It is a unique opportunity for many professionals to have access to the most prestigious independent Iberian aftermarket speakers.
The organizers of this symposium expect round about 300 participants from Spain and Portugal.
Helmut Wolk has the pleasure to be the keynote speaker of this event with two speeches. One about the present and future of the IAM Aftermarket in Europe in general and one about the IAM especially in Spain and Portugal.
Futhermore our long term network partner Pedro Barros will give a comprehensive lecture about technical information for independent multibrand garages.
Iberian IAM Aftermarket Symposium – Presentation
The aim of this Symposium is to create a common space where speakers and participants will be able to discuss their mutual interests, to get to know the Aftermarket trends and to share personal experiences with other After Sales professionals.
For the participants, this is a unique opportunity to deepen their knowledge about the independent aftermarket and about the tools that can be used to secure the future of their organizations.
The speakers of this symposium will provide quality information which will enable participants to face the business challenges of their companies. The topics of the presentations will cover areas of concern to the operators of the sector.
Present and future of IAM Aftermarket in Europe
Trends in the distribution of automotive parts in Iberia
Telematics on the independent aftermarket
e-Commerce Parts
The independent auto repairer – Present and Future
ICT in the Automotive Aftermarket – New forms of communication
Technical Information for multibrand workshops
The future of IAM Aftermarket in Portugal and Spain
Progamme and speakers
09:00 – 09:15
Welcome Speech
By: João Vieira and Miguel Angel Prieto
09:15 – 10:15
Present and future of the independent Aftermarket in Europe
By: Helmut Wolk, CEO Wolk After Sales Experts
10:15 – 10:45
Trends in distribution of parts in the Iberian market after-sales
By: Carlos Nascimento, Director General of the Create Business
10:45 – 11:30
COFFEE BREAK
11:30 – 12:00
Right to Repair … with quality.
By: Joaquim Candeias, President of DPAI
12:00 – 12:30
The Challenge of Telematics in independent repair
By: Neil Pattemore, Technical Director of FIGIEFA
12:30 – 14:30 – LUNCH
14:30 – 15:00 
The Iberian independent repairer – Is there a future outside the networks?
By: Raquel Marinho, Head of Bosch Car Service Network
15:00 – 15:30
TIC in the Automotive aftermarket – Electronic Commerce of parts and new forms of communication (Internet and Social Networking)
By: Filipe Teixeira, da ANECRA
15:30 – 16:00
Technical information for independent multibrand workshops
By: Pedro Barros, General Director of Tips4y
16:00 – 16:30
The Future of the independent Aftermarket in Portugal and Spain
By: Helmut Wolk, CEO Wolk After Sales Experts
16:30 – 17:00
Questions and Answers
17:00
CLOSING OF THE SYMPOSIUM
17:00 – 20:00
10TH ANNIVERSARY PARTY JORNAL DAS OFICINAS
More information on the official website of AP communicao.
http://www.jornaldasoficinas.com/simposioiberico2014en/