Die fünfte CLEPA Automotive Aftermarket Konferenz findet am 28.11.2013 in Brüssel statt.
Wie die Jahre zuvor schon gezeigt haben, ist die Automotive Aftermarket Konferenz ohne Frage eine der interessantesten ihrer Art.
Auch das diesjährige Programm hat eine ausgezeichnete Auswahl an kompetenten Referenten mit einer aktuellen Themenauswahl.
Wolk after sales experts sind Sponsorpartner der Automotive Aftermarket Konferenz. Helmut Wolk und Zoran Nikolic stehen während der Konferenz zu individuellen Fragen über den europäischen Automotive Aftermerket sehr gerne zur Verfügung.
Am Vorabend der Automotive Aftermarket Konferenz haben die Teilnehmer Gelegenheit zum informellen Austausch während dem Networking Dinner.
Der Veranstalter rechnet mit ca. 250 Teilnehmern aus der Automobil Branche wie z.B. Autohersteller, Autoteilehersteller, Auto- und Teilehandel.
Die diesjährigen Themen der Aftermarket Konferenz sind:
Sicherstellung der Wettbewerbsfähigkeit von Automobilzulieferern im zukünftigen Aftermarket
web @ Aftermarket:

Präsentation von Continental und HUK-Coburg  zum Thema "Vernetztes Fahrzeug"
"Connected Business", Auswirkungen des Internets in die Lieferkette aus SIcht des traditionellen Großhandels.

Das LKW und NKW Teile- und Servicegeschäft

Verschiedene Marktteilnehmer berichten über Herausforderungen und Lösungen dieses Marktsegmentes
5. CLEPA Aftermarket Konferenz – das Programm
9h00 Opening and Welcome by Jean-Marc Gales, CEO, CLEPA
9h10 Ensuring future automotive supplier competitiveness in the aftermarket, Dr. Andreas Cornet, Director, McKinsey
09h45 WEB @ Aftermarket (1)
Connected vehicle: Telematics, eCall, bCall, – ITS: eCall – door-opener for general telematics in passenger cars, Helmut Ernst, Vice President IAM, Continental
The connected motor vehicle from an insurer's perspective, Klaus-Juergen Heitmann, Member of the Executive Board, HUK-Coburg
Legislation on e-call and telematics n.n., DG Enterprise, European Commission
11h00 Coffee break – Networking
11h30 WEB @ Aftermarket (2)
Connected business: Distribution and supply chain.
Amazon Automotive connecting manufacturers and consumers, Nabil de Marco, Category Leader Automotive, Amazon
Connectivity along the supply chain of an Automotive Aftermarket distributor, Adrian Roggeveen, CEO, Sator Holding
View of an aftermarket focused solution provider, Juergen Buchert, CEO, TecAlliance
13h00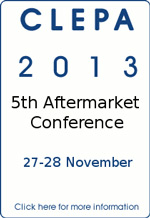 Lunch and Get Together
14h15 The HVC Parts and Service business
Market key data 
A Full Service Workshop Concept for Truck and Trailer, Dr. Stefan Weng, Member of the Executive Board, Knorr Bremse CVS
A unique combination of parts distribution and service for HCV, Stéphane Antiglio, CEO, AD France
HCV Service, the view of an International Lease Company, Arnaud Perard, CPO, Fraikin Intl.
16h00 End of Conference
Für weiterführende Informationen besuchen SIe bitte die Webseite des Europäischen Verbandes der Automobilzulieferer (CLEPA), oder klicken Sie auf das neben stehende Bild.