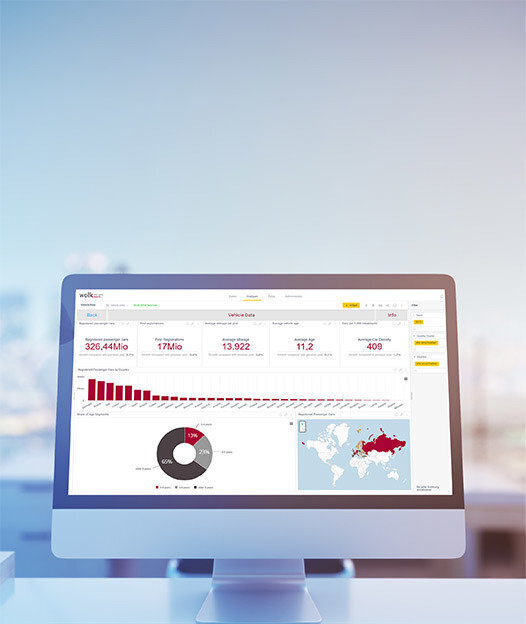 Ukraine - After Sales ACCESS Database
209
Product Details
The After Sales ACCESS database Ukraine gives access to exclusive market data that helps understanding the current Automotive Aftermarket in the Ukraine.
The database provides insights into the market structures and market participants at all levels of trade, including workshops. The data is permanently and conscientiously researched, therefore you stay always up to date with our database. Further, you have access to historical information back to 2012.
The database contains all relevant market participants in the Ukraine. Get the full picture of who belongs to whom and to which International trade and buying group the wholesalers have an affiliation.
You will get plenty of structural information on each of the Aftermarkets by having the vehicles in operation, Aftermarket volumes by value, and the garage structures per country.
The minimum subscription period is one year. During this period a user has access to all content and updates within the subscription period.

Content:
Car Parts Distribution Overview

detailed company profiles of all relevant parts distributors and wholesalers
turnover figures, number of employees, number of outlets
company belonging (hierarchy) and affiliation to trade groups

Trade and Buying Groups

all members and structures of the international and national trade and buying groups

Garage Structures (passenger cars & trucks)

number of garages by type per country
detailed profiles of all garage concepts and chains

Aftermarket Volumes in value

total aftermarket value with the split into the channels of independent aftermarket versus the car manufacturers' network
split into 10 major product groups

Vehicles in operation

total number of registered passenger cars and trucks per country
number of new registrations per year
average age and age segments
average mileage
split into car brand level
Find information on market players like Elit Ukraine LLC, Vladislav, Strans, Vianor, Avtoservis Oiler, ATR, Temot, Nexus etc.
Find more explainer videos and webinar recordings here.
Save this product for later