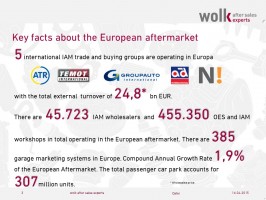 Large differences
The European aftermarket is far from being homogeneous. This study pointed out nine different clusters of countries which have large differences in their sales and turnover behavior. A motorist in Scandinavia pays per year about 588 Euros for new car components for example. This represents an increase of nearly 3% towards 2009. Motorists in Russia and Belarus however spend only 258 Euros for the spare parts of their cars.

Constant change
After sales manager in industry, trade and craft are faced with major changes in the various European aftermarkets. To be mentioned in this context for example are the acquisitions in the car parts wholesale sector by Sator / LKQ in the Benelux countries, the  mergers and acquisitions in the German market (e.g. WM bought Trost and Stahlgruber acquired majority interest in PV Automotive) or the growing importance of e-commerce in the aftermarket.
Development and changes which were out of imagination 10 years ago become reality.
Helmut Wolk, director of wolk after sales experts describes the situation in the European aftermarket as follows: "Often you cannot avoid the impression that the market participants are exposed to a chaotic market scenario that has no fixed boundaries where concepts, priorities and schedules shift quickly."  

Data Mining and Validation
The researched data is based on detailed car park data, economic data of the investigated market partners, primary research data from expert interviews with key market players like distributors and repairers in all countries and secondary statistical data.
Finally, the material flow in the supply chain was validated by a "top down method" (material flow from wholesale to the workshop) and a "bottom up method" (material acquired from workshops). 
All data is extracted from the database "After Sales ACCESS" developed by wolk after sales experts which bundles all information about the 34 European countries at one place and offers various evaluation possibilities. The car aftermarket report in Europe is an excellent example for such an evaluation via the database.
Content for each of the 34 countries in Europe
Car park data

Market volume by 10 product groups

Market structures

Traditional OES and IAM distribution

Alternative IAM distribution (online B2C web shops, DIY stores, rack jobbers)

Workshops by target groups (mechanics, tires, check / paint etc.)

Workshop systems

Company profiles

National and international cooperation

Parts Wholesale (IAM / OES)

Fast Fitters, car center, online shops, Mass Merchandisersetc.)
Get more information about the Car Aftermarket Europe Report here:
http://www.wolk-aftersales.com/car-aftermarket-europe-report-automotive-after-sales-market-research.html